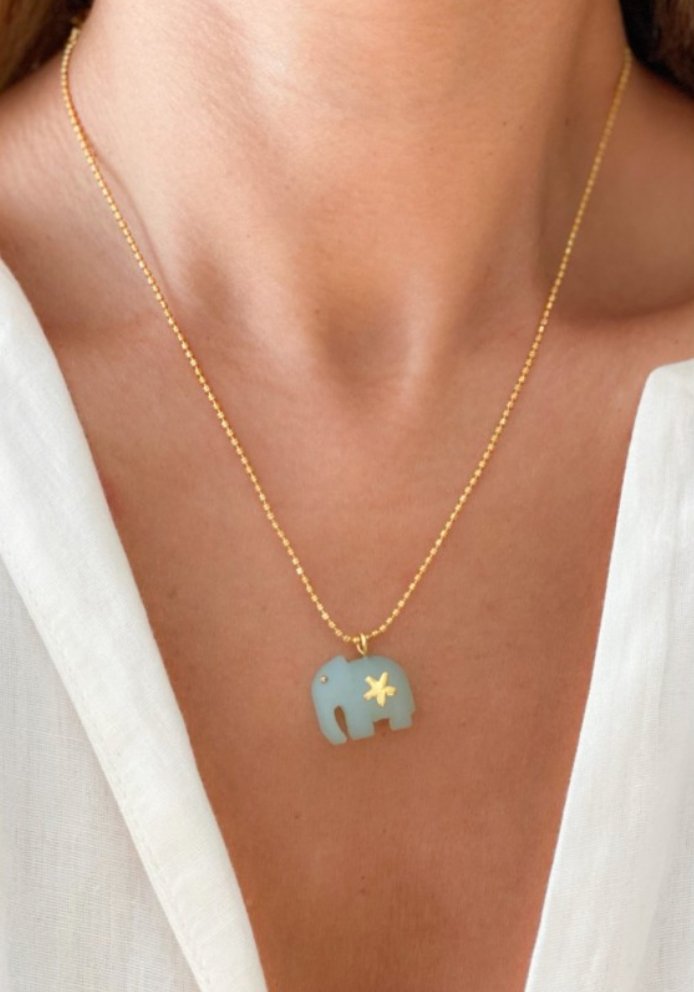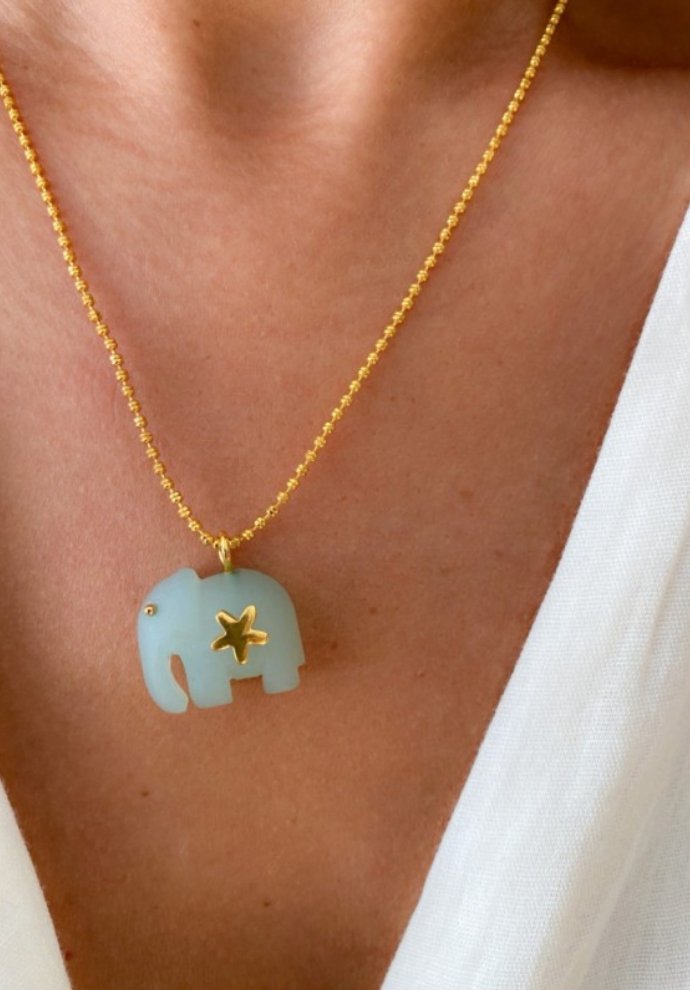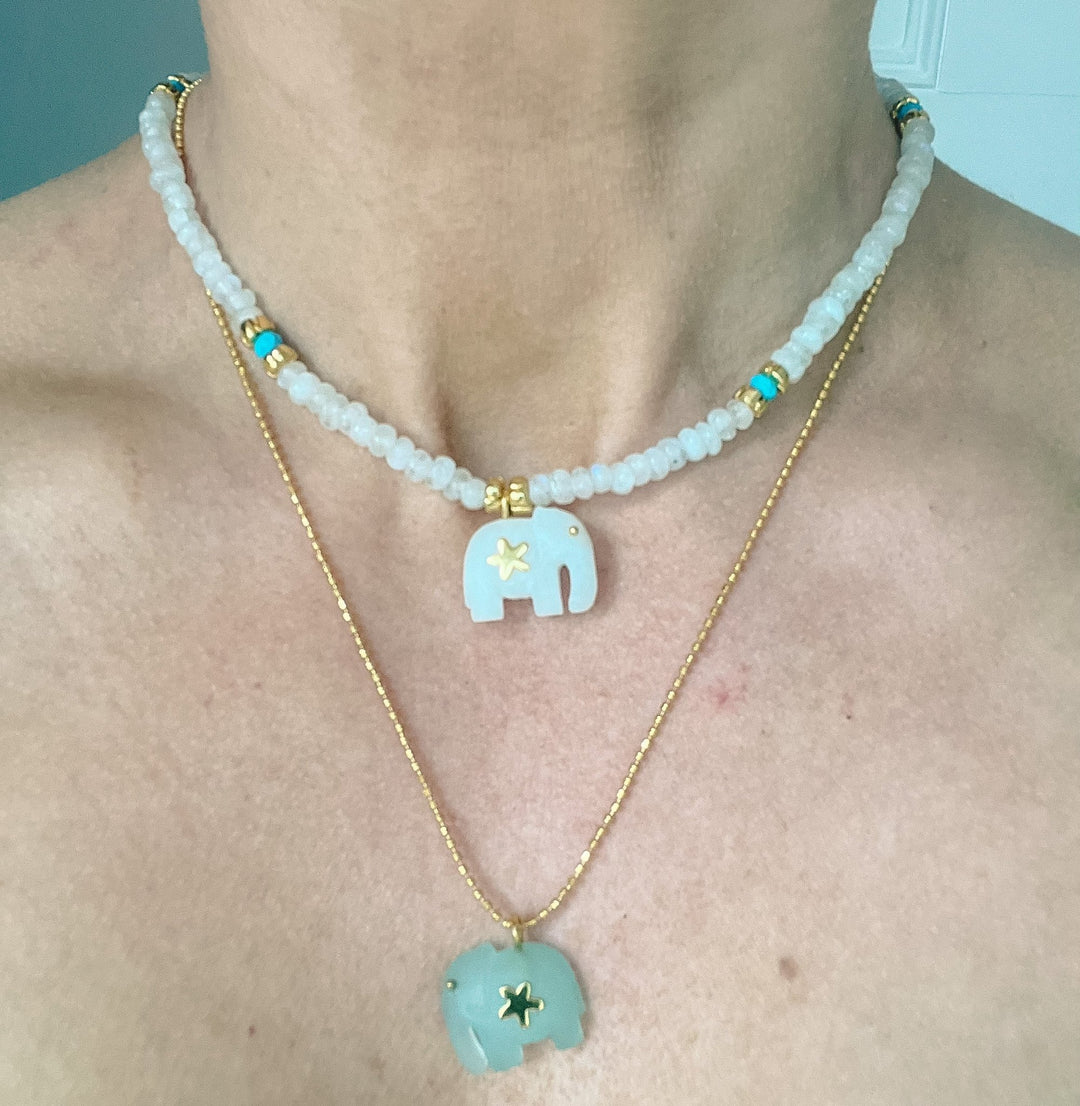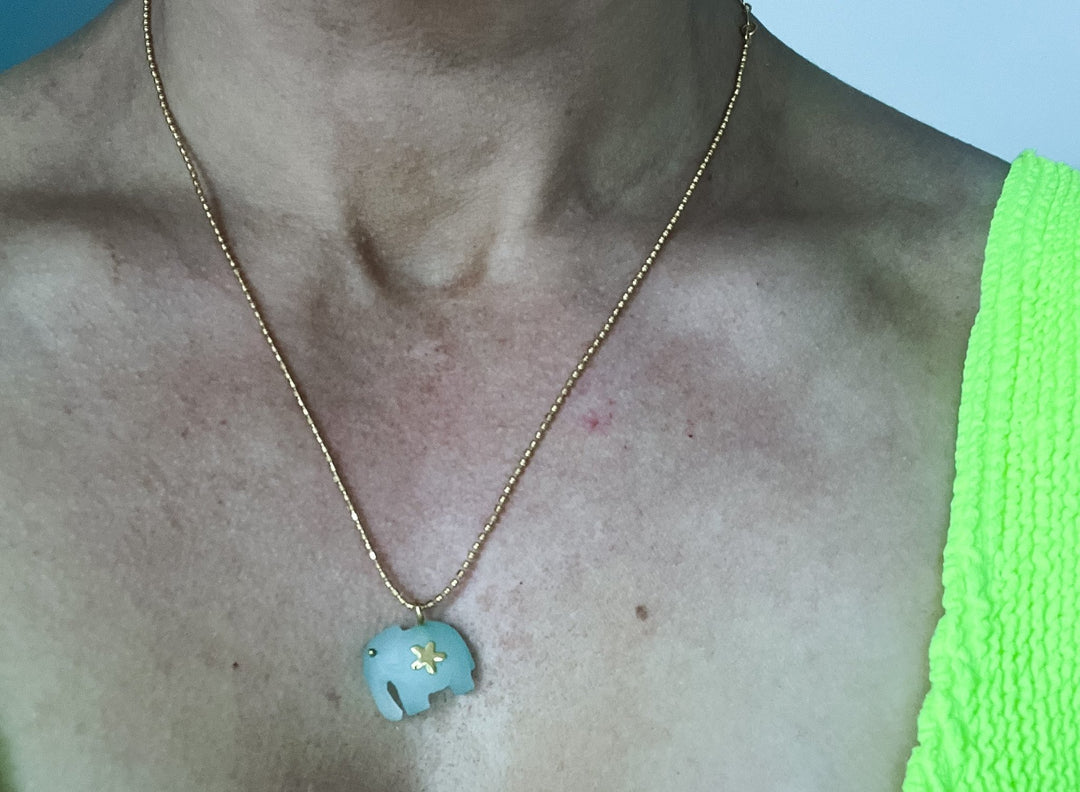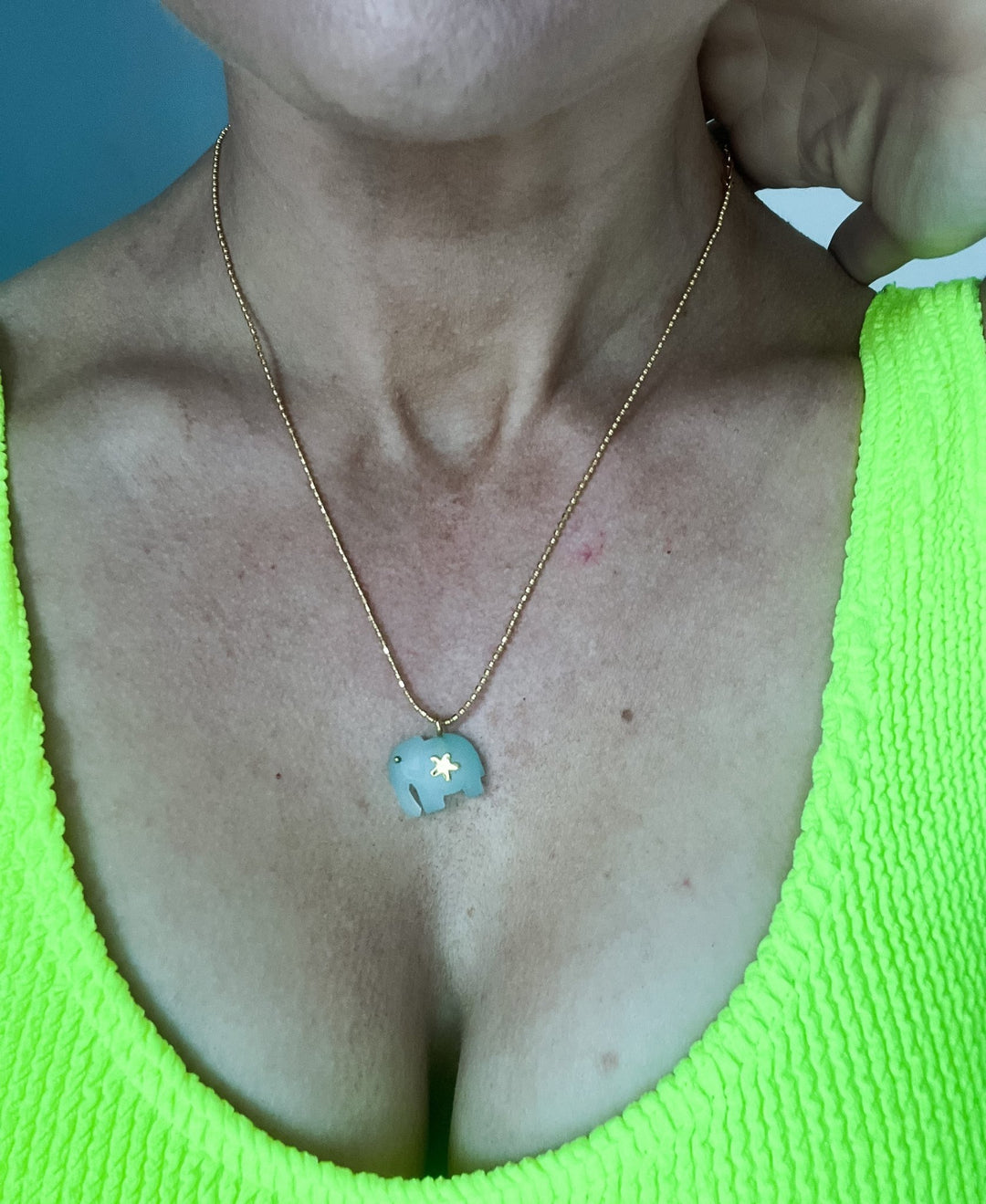 Hathi | Blue Jade Necklace
---
Low stock - just 2 items left 🏃‍♀️

Hopefully back soon!
The ultimate in boho-luxe girl glamour; this beautiful & wildly exclusive necklace, adorned with a hand-carved elephant pendant made of blue jade stone, is the unique piece of jewellery you've been waiting for.
We are thrilled to reveal our carefully curated collection of hand carved Jaipur elephant jewellery from Sara Lashay; think of me as your own personal treasure hunter, finding gems and rare finds from afar that will have everyone asking you: where did you get that from?
For starlets of all ages.
💎 24 carat gold plated brass & blue jade.

📏 Elephant: approx. 17 mm x 15 mm; Length: Adjustable from 40 cm to 50 cm.


🌍 Every single elephant pendant is hand carved by Jaipur artisans.

🎀 Wear alone as a statement piece, or stack with one of our beaded Hathi necklaces for a gorgeous boho luxe vibe.
Ethical | Bespoke | Handmade
All of our bespoke bedding and quilted accessories are designed in Rutland, but made entirely by hand in India; our team of artisans in Jaipur hand-block the fabric, stitch each item slowly by hand and finish our cosy quilts with the beautiful and delicate 'running stitch' that gives your block print bedding that gorgeous circular surface pattern. We only make things in small batches so, when they've sold out, it may take us some time to get more in stock; in fact, each batch is completely unique, and our product designs are constantly evolving.
As with all handmade products and block print bedding, please expect some variation in stitching and occasional splashes of ink on the hand-blocked fabric from the intricate printing process are perfectly normal. In fact, these are wonderful reminders that your items are slowly and ethically made by people in artisan communities, rather than simply run off a conveyor belt in a factory; no two items can ever be the same, which is what makes them so unique and one-of-a-kind.
There is beauty in the imperfection; it is what gives them all such personality and charm. Every single piece tells a story, and we hope you will be inspired by the magical prints and their thought-provoking heritage.
Please read our full 'How it's Made' section for more information on block printing and our creative team in Jaipur, India.
🌍 With sustainability being so important to us all these days (and rightly so), Bombaby is proud to bring you these ethically sourced and slowly made block print textiles; every pattern has been painstakingly block printed and our quilted accessories are sewn entirely by hand using traditional methods. No fast fashion here!
🧵 Our team of skilled artisans in Jaipur have lovingly created these bespoke accessories for you in small, exclusive batches; take pleasure in the fact that they haven't been created in their thousands on a factory conveyor belt! 
🎨 Every single product is entirely unique with it's quirks and variations in details; it's precisely what makes them so special! We don't launch new collections each season; we use up the materials we already have and print all of our fabric to order to minimise waste.
💥 Leave a lasting legacy. 1 quilt = 1 tree planted. Read more about the project on our sustainability page.
Speedy Shipping | Hassle-free Returns
Shipping via Royal Mail Tracked 24/48:
Standard Delivery (Tracked 24): £3.95
Free over £50 (Tracked 48)
Express:
*Express orrders must be placed by 11am; signatures are required on all.
Returns: items returned within 30 days and in unused condition will be eligible for a refund. Sale items will only be eligible for a credit note.
Simply contact sarah@bombaby.co.uk to organise your hassle-free return. Please read our full policy for all the details here.